Summer entertaining is so much more laid back than at other times of the year, isn't it? Throw a few hot dogs, burgers and portabellas on the grill, and you're pretty much ready to go.
Add a little oomph to your party with the easiest – and prettiest – side ever. It appeals to kids and adults alike because it's so refreshing as well as easy to carry around and eat while you socialize (or run through the sprinkler). My friend Kathie uses this idea for everything from family reunions to baby showers. It's the perfect addition to any party table, no matter how formal or informal. Here's how:
The first step is to find that decorative cupcake display tray you got for Mother's Day.
Next, buy some foil cupcake liners. Get decorative paper liners for the outside, if you like, but be sure to use inner foil liners so that the food doesn't soak through!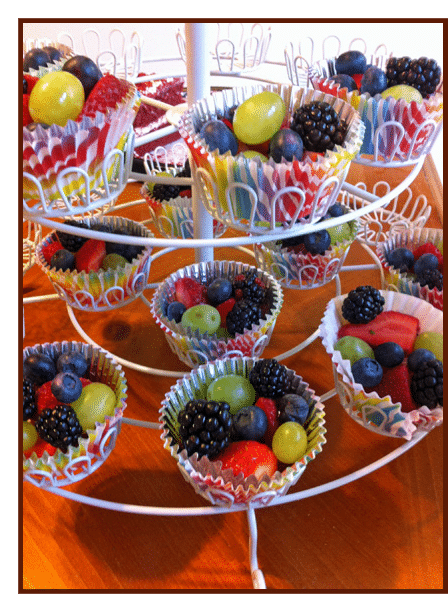 Now comes the fun part. Instead of filling your display with cupcakes, fill it with cupcake liners full of fresh fruits. Select an assortment of colorful "finger fruit," like berries, seedless grapes, halved orange segments, pineapple chunks, pitted cherries, etc., that appeals to the eye as well as the appetite. That it's all good for you only adds to its appeal.
Another option might be to use "finger" veggies, like cauliflower and broccoli segments, baby carrots and sugar snap peas. Maybe you'd like to use your cupcake containers as individual shrimp boats or relish trays of pickles and olives. Or how about different kinds of cheese cut into small chunks and a selection of narrow crackers?
Once you have your cupcake liners filled, place them in the display and stand back to enjoy the compliments. It's just that simple.
Who knew the humble cupcake liner could offer so many entertaining possibilities!