Exceptional Events. Every Time.
Catering for Elegant Casual Events in Maryland, Northern Virginia and Washington, D.C.
301.428.0650
View Venues
Exceptional Events. Every Time.
Catering for Elegant Casual Events in Maryland, Northern Virginia and Washington, D.C.
301.428.0650
View Venues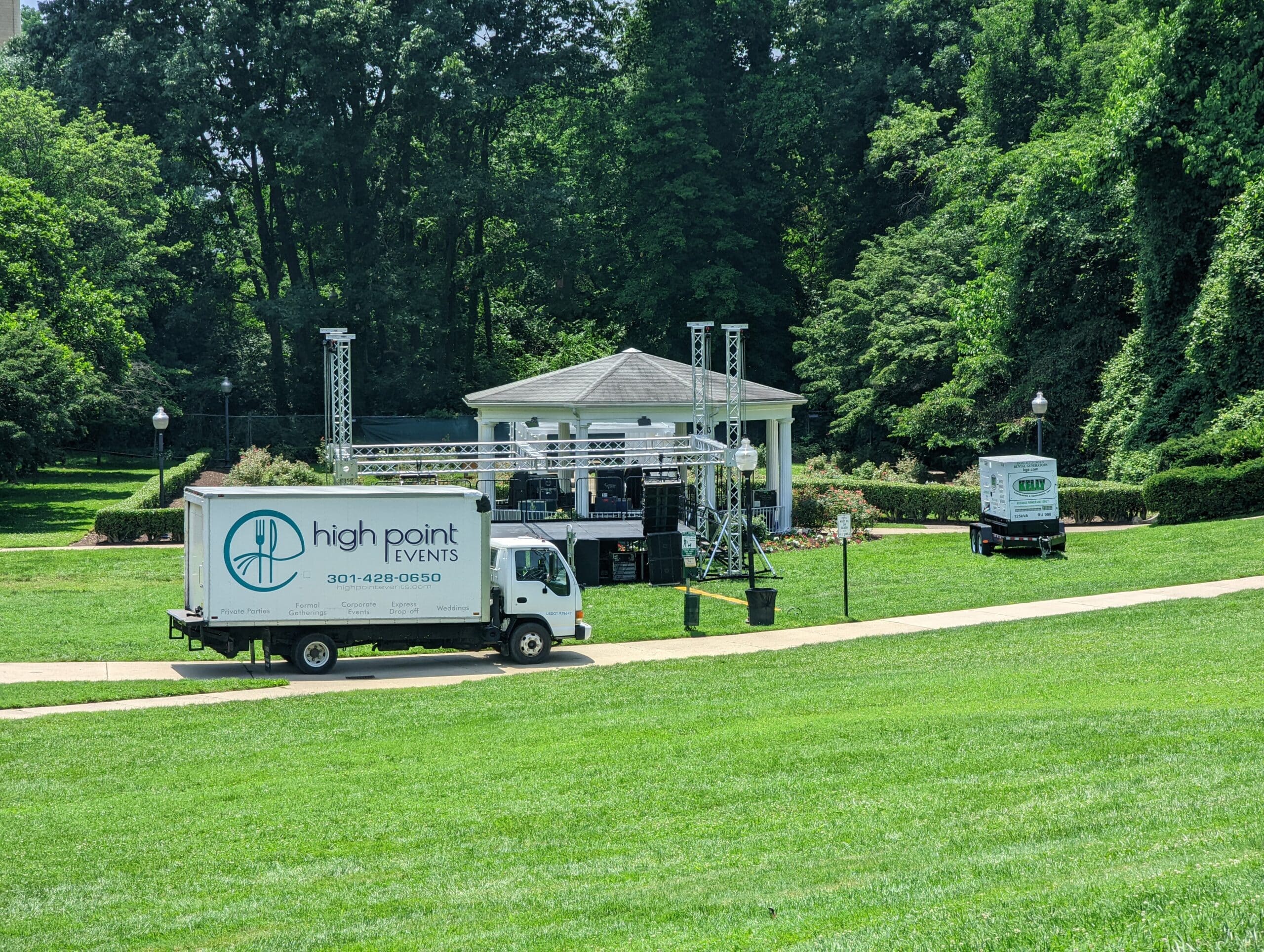 High Point Events & Catering
Exceptional Events. Every Time.
When it's time to plan an event, from small social gatherings to large corporate events, let the Team at High Point Catering take care of everything for you.
We are the Maryland, DC and Northern Virginia area's top catering and event-services company. We've built our reputation on friendly, upscale outdoor events.
When you work with us, you can rest easy and know your guests will have a great time, and that you will be able to relax and know your event will be well planned to go as smoothly as possible. You will have a variety of menus to choose from, and will enjoy working with our team of expert event planners whose mission is a smooth, enjoyable event for your small or large group. We work hard for you, and treat every client, and every guest, just like family.
Since we were founded 50 years ago in 1971 as Egan Barbecuers, our clients have raved about the quality of our services. From choosing your venue, to planning the details of the event, to choosing the menu, to the catering, event execution and transportation, right up to the cleanup when it's all done, High Point Catering provides exceptional events, every time.
Your guests will love our fantastic menu options and will enjoy the absolute best in outdoor, casual events, either at our new location Timber Ridge Farm on the border of Mt. Airy and Damascus Maryland, or at one of our many top-quality partner venues around the Maryland, Virginia and DC areas.
We have the right venue, menu and entertainment for any type of event, including:
Bar Mitzvah's
Bat Mitzvah's
Weddings
We are the 'go to' company for all of your catering and entertainment needs. We take pride in our team's creativity, reliability, and professionalism. When High Point Catering plans your next event, you'll be able to sit back, relax, and enjoy the fun right along with your guests. After all, we throw parties for a living!
What can we plan for YOU?
Exceptional Events, From Casual to Formal, Indoor and Outdoor!
As the colder months cause temperatures to drop, let us assist you in finding the perfect indoor venue for your next event. From sophisticated in-town venues to stunning rural locations, our expert team will assist you in finding just the right venue, assist in developing the ideal menu, and will manage and cater the event with smiles and superior service for your guests.
Sarah Benedict
2023-02-07
Every team member I interacted with was phenomenal and very attentive. Then, the food - out of this world! All of our attendees are raving and asking for the recipe, demanding we add the recipe to our website. The event day team arrived early, provided ample communication, presentation was professional and elevated our guest experience. I cannot express how great High Point Events & Catering is to work with. Great folks and great food!
My company had our first company Family Day event (in November!) and it was a smashing success! With approximately six weeks to plan, Jeff and Bob were wonderful to work with, making great suggestions and delivering on every request. We have already booked our event for 2023, but this time in June!
For the first time since 2019, we were able to include hot food for the annual Run Under the LIghts at Seneca Creek State Park. High Point Events had catered in the past, and brought all their expertise to our event this year. They served more than 700 runners at an outdoor venue, at night, in the cold. We received so many complements on the hot food from our participants! Jeff and Tim and the whole High Point team were great to work with and made everything go smoothly. I can't recommend them highly enough.
Aubrey Swanson
2022-11-29
My husband and I worked with the High Point team to cater our wedding! Not only did they cater, but they handled our tables and chairs rentals. They took care of setting up tables and table decor. We worked with them item by item on our service quote to prioritize what was most important to us. They even set up a tasting for us to try some of the pieces of our meal a couple weeks before the wedding. The day of our wedding, high point staff made sure John and I got plates of the appetizers and the meal. This was so crucial! At the end of the night, high point gave to go boxes to our guests of the leftover food. Many of my friends appreciated this! We worked closely with Katy. She was such a delight! Food was delicious! Pit beef was my favorite.
Five stars isn't enough to express the outstanding service provided by the High Point team! This is a team of top notch experts that truly go above and beyond for their clients. I hired High Point for a celebratory corporate event for around 150 guests. We held the event in a tent in our parking lot. The event was beautiful both inside and out. The team took care of every logistic and detail including party rentals (tables, chairs, etc.), decorations that included beautiful fresh florals, AV services, etc. They took all the stress and guess work out of the process. The final product was just exceptional. The food was delicious and received many compliments from guests. The menu they recommended was spot on for the event. We also ordered cupcakes with our branded logo that were a huge hit with all who attended. While the food and final product were flawless, there are no words to express how wonderful the service was. Each member of the staff who was present for the event was kind, helpful, and professional. In addition, the event planning team was exceptionally helpful, attentive, and responsive throughout the entire process. Everyone on the team was awesome. I am so grateful to Bob, Jeff, Katy, Matt, Danny, Kara, and the entire High Point team. While these are the names of the folks I interacted with the most, those whose names I didn't catch were just as stellar and deserve the same level of recognition. If you're looking for an event and catering vendor, look no further than High Point - you will be in the best hands! They truly did everything they could to make this event stress-free for us.
Diane Kilcoyne
2022-11-16
We used High Point Catering for our high school reunion held at Bally Cliff Farm, and the staff was excellent, the food was delicious, and they were very professional. The event went off without a hitch! Thanks to High Point.
Kathryn Besser
2022-11-10
High Point Events & Catering made our joint 40th Class Reunion an overwhelming success! The entire team was courteous, helpful and incredibly professional throughout the planning process, set up, service and clean up of our event at Bally Cliff Farm. Alumni from RMHS Classes of 1980, 1981 and 1982 had an incredible time celebrating a once-in-a-lifetime joint reunion event. It could not have gone more perfectly; in fact, most agreed we should only hold joint class reunions in the future! Thank you to Bob and the entire team for making it look easy.
Our company recently held an event at Bally Cliff Farm in Poolesville, MD/High Point, and it was amazing. The weather was perfect for Fall. The food was great, the location was THE BEST! The entertainment was great, especially the caricature artist - he was fantastic. I would highly recommend the location and High Point.
Specializing in Corporate Events
When it's time to plan your next corporate event or party in Clarksburg or around the DC, Maryland and Virginia area, let our event planning and catering specialists at High Point Catering make your job easier. Whether you have a small office group, or hundreds (or even thousands!) of attendees, we can make your next event 'one for the books'.
Our trained staff can help you have an outdoor event that is COVID-19 safe and that will give your team a much-needed fun time together. We are immaculately clean in our food preparation and presentation, and follow all Covid safety protocols and CDC guidelines for safe outdoor events. We will work with you to keep everyone safe while having a wonderful time.
Nothing Brings More Joy Than Food
Our dedicated and experienced culinary team brings the same passion to all their creations for your enjoyment. Our menus are designed to be customizable to fit your event.
Naomi R.
We had a wonderful experience using High Point for our outdoor tented event. I had to deal with only a few vendors because almost everything was streamlined through High Point, which made things easy for me. Bob and Katy were a pleasure to work with. During the weeks before the event, both of them were on top of everything and responsive, at times responding to my emails within minutes. in addition, High Point did an incredible job ensuring that all guests were as safe as possible. They adhere to the strictest Covid protocols and were extremely thoughtful about safety. I highly recommend High Point!
We Throw Parties for a Living
We love what we do! While outdoor corporate barbecues are still the centerpiece of High Point's catering services, we have grown to include many more event types.
Ready to Plan Your Next Event?
If you're ready to plan your next social event, party, or corporate event in Clarksburg, our catering and event planning specialists are here to help! We will take care of every detail from assisting with choosing a Venue, planning, catering, transportation and even cleanup. Contact us and let's get started!
The Perfect Venue for Your Event
By being in the catering business since 1971, High Point Events & Catering has worked with many indoor and outdoor venues throughout Maryland, Washington D.C. and Northern Virginia.
Services Quick Look
Put our deep event planning experience to work for you!
Our event planners have years of experience in the design and execution of special events, including corporate outings, trade-shows, luncheons, galas, weddings, holiday parties, and more. We will be happy to assist you with all aspects of event planning, including venue selection, menu options, original theme ideas, entertainment and rental options.
Here's a look at our services.
BARBECUE is how High Point Events got its start. What sets High Point apart from other caterers is that our food is cooked on-site whenever possible. We've been known to set up our grills everywhere from office parking lots to local parks to the National Mall. We have stunning Venues from which to choose to fit any size group and type of event.
THE FORMAL DIVISION handles all kinds of formal events at venues around the greater Washington, D.C., area, from Baltimore to Alexandria to Clarksburg. Catering and event planning services at High Point include a variety of food and service options by our well-trained and professional wait staff. Casual outdoor Weddings are a specialty, and our beautiful venues give you plenty of options for the perfect setting.
RENTALS & ENTERTAINMENT is an outgrowth of our connections with the best suppliers in the area. What size tent do you need? Which would work better: round tables or rectangles? Should I choose DJ vs. a live band? Best options for china and glassware? Bartending services? A/V equipment?
BAR AND BEVERAGE SERVICES are available at our venues. Our liquor license allows us to offer a variety of services at venues which will allow alcohol. We offer beer and wine services, specialty bars, full-service bars, and other options.
DISASTER RELIEF is a specialized aspect of High Point Events. We provide emergency catering and logistics coordination at times of large-scale natural disasters and in other emergency situations.
Have something else in mind? Contact us, and let's discuss the possibilities.