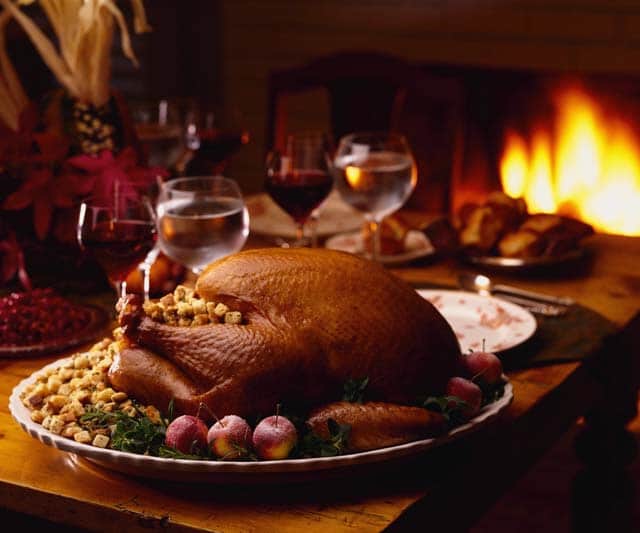 According to one version of history – with a hefty dose of folklore thrown in – the American Thanksgiving traces back to 1621 and the Pilgrims' gratitude for a good harvest. However you regard the historical event, the modern Turkey Day, as it's frequently known, can leave full-time working hosts dreading the beginning of the grocery- and gift-shopping season that it signals.
How to make Thanksgiving a little easier on all involved? Here are several suggestions we hope will help you spend more time in the family room with your guests and less in the kitchen (or at the local convenience store).
Plan ahead. Easier said than done, we all know, but if you start making lists on the fridge well in advance, the last week of November will go much more smoothly. So grab the magnets and notepads, and hang several lists: one for guests to invite, one for the menu for each meal you need to serve, one for non-perishable item to purchase now, one for last-minute fresh items, and one "miscellaneous" list for weird stuff that doesn't fit anywhere else. Try to set aside 20 minutes some night to start the lists, then add to them each time you pass through the kitchen.
K.I.S.S. – Keep it super simple! What is it you want your guests to remember about Thanksgiving 2013 when they think of it five years hence? Is it the stuffing with 10 different fresh herbs, or is it the fun they had when Uncle Don started talking about Granddad's being a bootlegger? Try one new recipe each holiday, if you must, but otherwise stick with the tried, true, traditional dishes. Your family will thank you for it!
Cook ahead whenever possible. Some holiday cooks have this down to a science, having adapted their favorite recipes to allow most, if not all, of the dish to be completed the day before. For instance, this recipe for Make-Ahead Holiday Potatoes that specifies making a day ahead is a favorite for several High Point Events families. If you can't make the whole dish in advance, at least think about ingredients that could be measured and set aside, or vegetables that could be cleaned, covered with water and a lid, then held in the fridge overnight. Some appetizer recipes, like this High Point family favorite for Artichoke-Cheese Dip, are perfect to make the day ahead and put in the oven as the guests begin to arrive.
The ultimate Thanksgiving cook-ahead is, of course, the Bird itself. Doing so frees up your oven for other dishes and lets you get some of the worst of the clean-up done in advance. Plus there's no waiting around on Thanksgiving day for that pesky white sticky-uppy thing to pop. Here's how: Cook the bird the day or night before and carve. In a large disposable pan, layer the slices of white meat and dark meat separately, with the legs and wings on top. Spoon the essence of the cooking juices around the meat, cover tightly and refrigerate. Thanksgiving day, remove from the fridge an hour or two in advance to get the chill off. Keep the pan tightly covered and heat in a 350-degree oven for an hour.
So that's it: three simple suggestions to make the holiday a real holiday, even for the cook! And if even these suggestions don't offer sufficient relief from the holiday chaos, consider having High Point Events cater your holiday dinner- just the turkey or just the sides or the whole enchilada. Contact us today at 301.428.0650 or sales@highpointcatering.com.