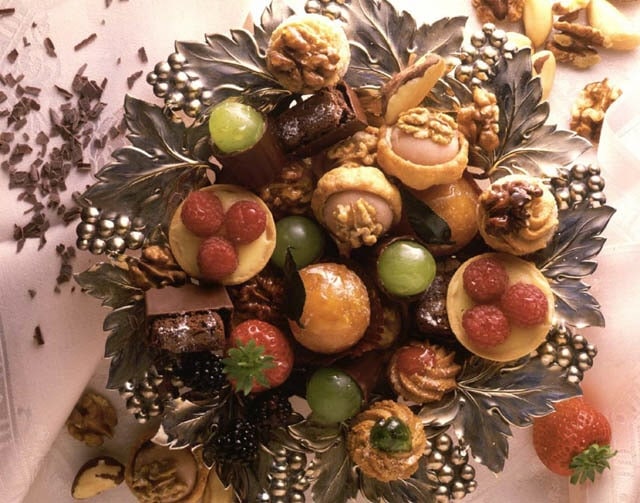 'Tis the season of sweets and delectable treats! When planning your holiday soiree, there is an endless array of options for a catering order. High Point's experts have put together a few tricks of the trade and items to consider when booking your holiday event – at the office, for the family or around the neighborhood!
Book early & be flexible!
Many caterers are extremely busy this time of the year, with the Fridays and Saturdays between Thanksgiving and Christmas are some of the hottest dates of the year for an event! If you are attached to a particular date, make sure that you get in touch with your caterer to secure the time as soon as possible. Dates book up earlier than you might imagine, so it does not hurt to get in touch a few months out if you have something in mind.
Not attached to a date? Your caterer may be willing to offer a more competitive rate or additional services for booking at a less popular time. Consider doing a weekday lunch event or happy hour or a Sunday afternoon affair. Since many of your attendees also have a full social calendar, you are likely to get a higher turnout when you consider off cycle times.
Holiday calendar of events getting too full? Look beyond the holidays and plan for a winter event. January and February are a great time for events, are often lower cost, have a higher turn-out, and offer opportunities to experiment with new or unconventional themes.
Go beyond the gravy
It is easy to get stuck in a turkey-and-potatoes rut this time of year. Get creative and do some twists on original holiday fare. Take your Christmas lunch buffet and have a Feliz Navidad theme with a fajita bar. Or adapt holiday favorites, like cranberry sauce, and transform them into a cranberry and brie spread.
Consider offering an attraction, like a hot chocolate bar, a decorate-your-own-sugar-cookie table or a gingerbread man cookie competition. This is a way to stretch your food budget, create a memorable experience and encourage some friendly competition.
Portion math
Calculating the amount of food to order is always an imperfect science. The amount and type of food ordered should also be reflective of the venue and type of event. A formal holiday event should be a plated dinner or fancy buffet, while a casual reception would be a perfect fit for assorted seasonal appetizers that encourage networking and full stomachs.
Here is a handy banquet order arithmetic cheat sheet:
Appetizers before a full meal: Plan on four to six pieces per guest.
Appetizers only: Plan on 12 pieces per guest.
Meat entrée: Plan on 1/4 to 1/3 pound of meat per person.
Special diets: Collect a count of guests with special diet requirements (vegetarian, kosher, diabetic, etc.) and be sure to include exclusive meals just for them (clearly labeled or identified).
Work with your caterer to explain your guest list and venue to ensure a proper amount of food is ordered (and who ever complained about leftovers?).
Save room for dessert!
The holidays are all about those special foods that only come around once a year, and it is a season-long excuse for dessert. Make sure to give your guests something special to wrap up the meal. Seasonal cookies and dessert bars are hand-held, colorful and add an extra zip when displayed. Mini desserts give your guests an opportunity to sample a lot of seasonal classics without busting their belts! Talk to your caterers to see what they recommend to round out your meal. They are likely to have some unique ideas and suggestions for how to display your selections that provide the grand finale to your affair!
Seeking inspiration for your holiday gathering? Looking to book an event? We still have space available. Reach out to us today and let High Point make your year-end event a memorable and tasty affair!