Exceptional Events. Every Time.
Catering for Elegant Casual Events in Maryland, Northern Virginia and Washington, D.C.
301.428.0650
View Venues
Exceptional Events. Every Time.
Catering for Elegant Casual Events in Maryland, Northern Virginia and Washington, D.C.
301.428.0650
View Venues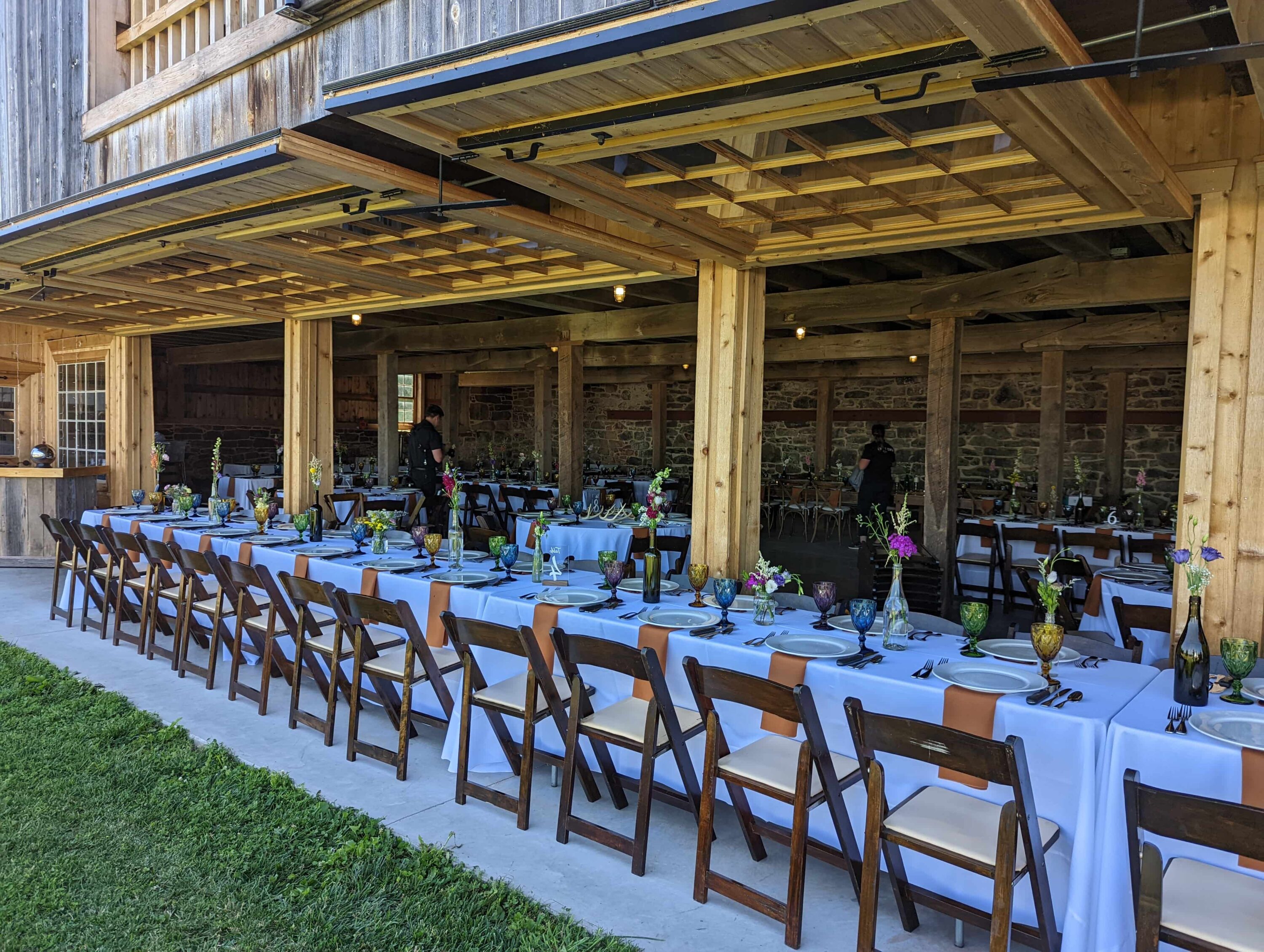 High Point Events & Catering
Exceptional Events. Every Time.
When it's time to plan an event, from small social gatherings to large corporate events, let the Team at High Point Catering take care of everything for you.
We are the Maryland, DC and Northern Virginia area's top catering and event-services company. We've built our reputation on friendly, upscale outdoor events.
When you work with us, you can rest easy and know your guests will have a great time, and that you will be able to relax and know your event will be well planned to go as smoothly as possible. You will have a variety of menus to choose from, and will enjoy working with our team of expert event planners whose mission is a smooth, enjoyable event for your small or large group. We work hard for you, and treat every client, and every guest, just like family.
Since we were founded 50 years ago in 1971 as Egan Barbecuers, our clients have raved about the quality of our services. From choosing your venue, to planning the details of the event, to choosing the menu, to the catering, event execution and transportation, right up to the cleanup when it's all done, High Point Catering provides exceptional events, every time.
Your guests will love our fantastic menu options and will enjoy the absolute best in outdoor, casual events, either at our new location Timber Ridge Farm on the border of Mt. Airy and Damascus Maryland, or at one of our many top-quality partner venues around the Maryland, Virginia and DC areas.
We have the right venue, menu and entertainment for any type of event, including:
Bar Mitzvah's
Bat Mitzvah's
Weddings
We are the 'go to' company for all of your catering and entertainment needs. We take pride in our team's creativity, reliability, and professionalism. When High Point Catering plans your next event, you'll be able to sit back, relax, and enjoy the fun right along with your guests. After all, we throw parties for a living!
What can we plan for YOU?
Exceptional Events, From Casual to Formal, Indoor and Outdoor!
As the summer months bring us warmer, sunnier days, let us assist you in finding the perfect outdoor (or indoor) venue for your next event. From sophisticated in-town venues to stunning rural locations, our expert team will assist you in finding just the right venue, assist in developing the ideal menu, and will manage and cater the event with smiles and superior service for your guests.
Specializing in Corporate Events
When it's time to plan your next corporate event or party in Clarksburg or around the DC, Maryland and Virginia area, let our event planning and catering specialists at High Point Catering make your job easier. Whether you have a small office group, or hundreds (or even thousands!) of attendees, we can make your next event 'one for the books'.
Our trained staff can help you have an indoor or outdoor event that runs smoothly, giving your team a much-needed fun time together. 
Nothing Brings More Joy Than Food
Our dedicated and experienced culinary team brings the same passion to all their creations for your enjoyment. Our menus are designed to be customizable to fit your event.
B. Early
Wonderful place to hold an event. The planning staff couldn't be nicer and was very helpful to me while planning our company event. Very easy to customize to fit different interests and budgets. Definitely recommend High Point for big and small events–love that they can take care of everything!
We Throw Parties for a Living
We love what we do! While outdoor corporate barbecues are still the centerpiece of High Point's catering services, we have grown to include many more event types.
Ready to Plan Your Next Event?
If you're ready to plan your next social event, party, or corporate event, our catering and event planning specialists are here to help! We will take care of every detail from assisting with choosing a Venue, planning, catering, transportation and even cleanup. Contact us and let's get started!
The Perfect Venue for Your Event
By being in the catering business since 1971, High Point Events & Catering has worked with many indoor and outdoor venues throughout Maryland, Washington D.C. and Northern Virginia.
Services Quick Look
Put our deep event planning experience to work for you!
Our event planners have years of experience in the design and execution of special events, including corporate outings, trade-shows, luncheons, galas, weddings, holiday parties, and more. We will be happy to assist you with all aspects of event planning, including venue selection, menu options, original theme ideas, entertainment and rental options.
Here's a look at our services.
BARBECUE is how High Point Events got its start. What sets High Point apart from other caterers is that our food is cooked on-site whenever possible. We've been known to set up our grills everywhere from office parking lots to local parks to the National Mall. We have stunning Venues from which to choose to fit any size group and type of event.
THE FORMAL DIVISION handles all kinds of formal events at venues around the greater Washington, D.C., area, from Baltimore to Alexandria to Clarksburg. Catering and event planning services at High Point include a variety of food and service options by our well-trained and professional wait staff. Casual outdoor Weddings are a specialty, and our beautiful venues give you plenty of options for the perfect setting.
RENTALS & ENTERTAINMENT is an outgrowth of our connections with the best suppliers in the area. What size tent do you need? Which would work better: round tables or rectangles? Should I choose DJ vs. a live band? Best options for china and glassware? Bartending services? A/V equipment?
BAR AND BEVERAGE SERVICES are available at our venues. Our liquor license allows us to offer a variety of services at venues which will allow alcohol. We offer beer and wine services, specialty bars, full-service bars, and other options.
DISASTER RELIEF is a specialized aspect of High Point Events. We provide emergency catering and logistics coordination at times of large-scale natural disasters and in other emergency situations.
Have something else in mind? Contact us, and let's discuss the possibilities.