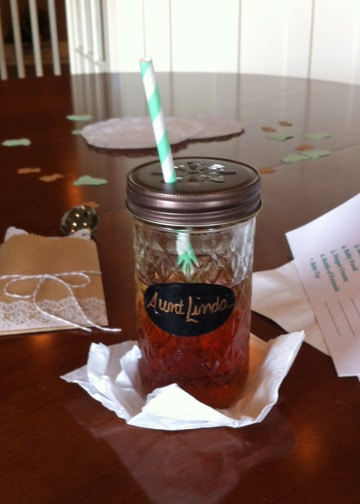 Once a centerpiece of home canning, Mason jars have experienced a renaissance as a fun and cost-effective way to jazz up any event. Mason jars are available in a variety of sizes, shapes and even colors. And they pair exceedingly well with another current wedding décor favorite: burlap. While most big retail and grocery outlets will stock them, some stores carry them only as a seasonal item in the summer months. However, given the growing popularity of the glass vessel, with a little research you should be able to find them in your neighborhood regardless of the time of year. Check your local craft store first.
While there is an endless list of ways to use Mason jars at your event, here are some of High Point's favorite ways to include them at your next soiree, whether it's a formal wedding or a down-home, country style picnic.
Flower Vases
Given the variety of sizes and heights that Mason jars are available in, they offer plenty of options for displaying your floral arrangements. Mason jars can be decorated to match your theme or you can display them "as is." Consider using a mix of Mason jar sizes to display flowers. The large jars make a great centerpiece for a table or buffet line, while the small, short vases can hold small arrangements at a bar or escort card table. Click here to see example of flower arrangements.
Votive Holders
Use Mason jars to provide a variation on the normal clear glass votive. Similar to the flower vase opportunities, the variety of sizes and colors in which Mason jars are available provides lots of options for lighting up your affair. Votive candles can be anchored in the bottom of a Mason jar with an adhesive or nestled in sand or pebbles. Consider purchasing floating votive candles and filling a Mason jar with colored glass rocks and water to provide light and a nice ambience for the table settings at your evening affair. We like these candle votives for outdoor events and these winter themed centerpieces.
Signature Cocktails
Go beyond red Solo cups and plastic wine glasses by using Mason jars to serve beverages. Mason jars with handles are ideal for this and provide guests with a fun and nostalgic way to enjoy a refreshing beverage. Don't have enough Mason jars or want to highlight a few beverages? Consider offering a signature cocktail in the Mason jars to limit the number of jars needed for your event (and to save yourself a lot of clean up afterwards). Colorful mixed or fruit-based drinks look great when served in the Mason jars – some even say the drinks taste better when served from the jar! Here are two examples of ways to serve your beverage: with or without straws and as a centerpiece.
Dessert in a Jar
Provide your guests with a memorable way to enjoy your event's final course by serving dessert in a Mason jar. Not only will your guests' tummies be happy, but they will get to experience the whimsical joy that comes from eating dessert from a jar! Trifles and other deconstructed desserts lend themselves well to being served in a jar. Also check out these recipes for 10 desserts in a jar. Guests have no room for dessert? There are also plenty of ways to create a cupcake-to-go for your guests to take home and enjoy the next day.
Mason Jar Goblets
Provide your guests with a fun interpretation of a wine glass by creating Mason jar goblets from which they can enjoy their beverages. Mason jar goblets also make excellent shower gifts or favors by which guests can remember your event. Although some stores and online shops sell Mason jar goblets now, you can make Mason jar goblets yourself for considerably less than the cost of buying them. Also check Etsy.com for the wide assortment of Mason jar items available as favors.
Mason jars are just one of the many ways to add a high point to your next event! Visit the High Point Events Pinterest page to see more of our favorite wedding decorations.